OUR TEAM

We are Hollywood professionals who have spent our careers making great stories into films.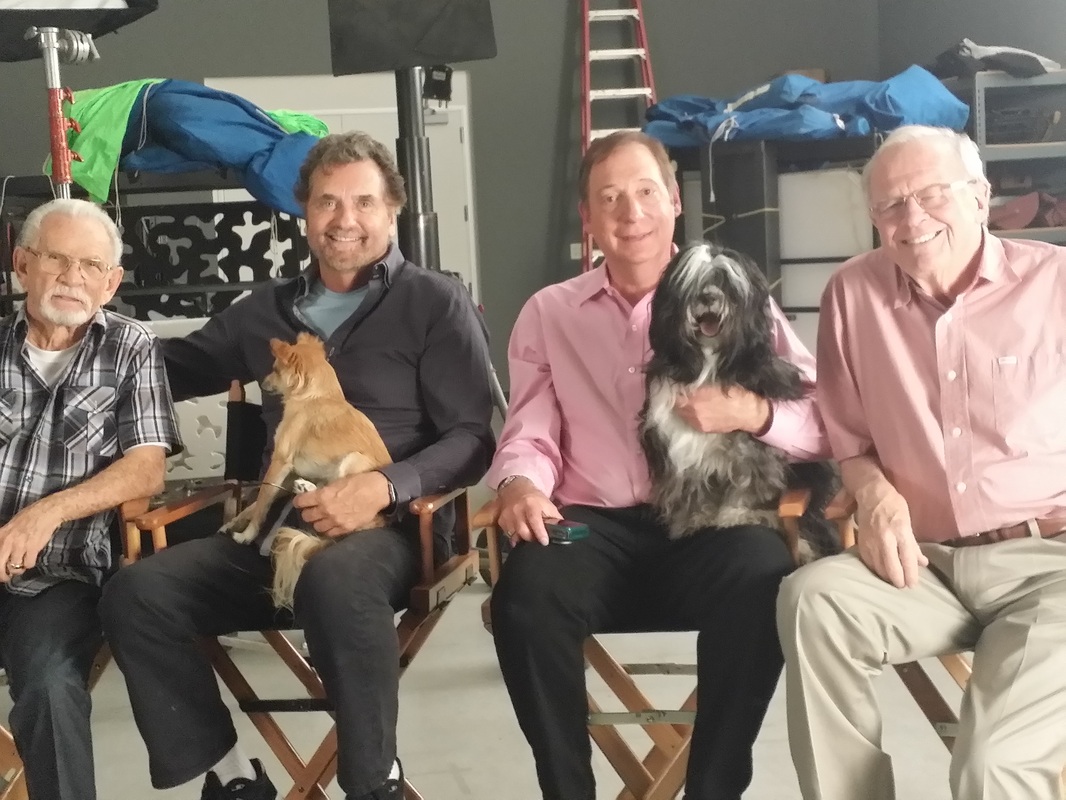 Left to Right: Donald M. Morgan, Director of Photography; Roger Young, Director (with rescue dog Manny); Daniel Helfgott, Writer-Producer (seated, with GCh Kipling); Patrick Williams, Composer.


WATCH OUR PITCH VIDEO
---
WRITER-PRODUCER

DANIEL HELFGOTT has made award-winning movies and TV shows about real people overcoming impossible odds. He has 2 Emmy nominations, an Emmy, and numerous other awards. He loves telling true stories about heroic underdogs, and was a bit of an underdog himself when he and his wife entered their Tibetan Terrier into their first dog show. After that, they were hooked! They couldn't believe Hollywood hadn't made a movie about this sport before, and when they heard this story, they knew it had to get made.




---
DIRECTOR

ROGER YOUNG has owned dogs his entire life, and right now has wonderful rescue dog named Manny. He's also directed more than 40 motion pictures and miniseries. Some of those titles include The Bourne Identity, Under Siege, Geronimo, Murder in Mississippi, A Knight in Camelot, Jesus, and Hercules. He has three Director's Guild Awards, an Emmy, and has directed a ton of stars, including Brad Pitt and Tom Selleck.



---
DIRECTOR OF PHOTOGRAPHY

DONALD M. MORGAN is a legend in Hollywood. He also loves dogs, and right now has two wonderful companions, Bella and Emmy. Emmy, as you might guess, is named after one of Don's favorite things... he has 9 Emmy nominations, 5 Emmys, 6 ASC nominations, 4 wins, and a career achieve-ment award from the American Society of Cinematoraphers. He has shot more than 70 films, from the ground-breaking sci-fi film Starman, to the eerie thriller Christine. He and director Roger Young have worked together on 13 films.



---
COMPOSER

When you think music, and then think of film music, you think of composer PATRICK WILLIAMS. Pat received his first Oscar nomination for the ground-breaking film Breaking Away, and has gone on to score more than 200 movies. He has 23 Emmy nominations, 4 Emmys, 16 Grammy nominations, 2 Grammys, and has composed and produced albums for everyone from Frank Sinatra to Barbra Steisand.



Our OTHER TEAM MEMBERS include:

Gavin Carlton, Editing & Motion Effects

Andrew Kligier, Graphics

Noah Pankow, Color Timing

Justin Wolman, Additional Graphics & Editing

Jason Lee, Music Producer

And our great film crew for the pitch shoot: Noah Pankow, Steve Halbert, Bianca Garcia, Hayden Luscombe, Jake Kaster, David Roth, Mike Hulyk, plus David Dodson and the great folks at Panavision.



PLUS, our GREAT CAMPAIGN TEAM:

Karissa L. Ketelhut, Fay Wu, Kate Gardner, Daniel Cramer, Adina Johnson, Meghan Lannoo




And SPECIAL THANKS to:

Joe Melody at SmartPost Sound